Home
The Nebraska Center for Energy Sciences Research (NCESR), chartered in 2006, supports innovative research and interdisciplinary collaboration by funding competitive "seed grants" for energy sciences research. About Us describes the mission, goal, vision, center organization and administration, including the Director, Associate Director, Executive Council and the External Advisory Committee. Contact Us gives the office address plus contact information for the Center's staff. Use the Whittier Research Center Map or UNL's Campus Maps to locate the NCESR office in Suite 230 of the Whittier Research Center, 2200 Vine Street, Lincoln, Nebraska.
---
The Spring 2022 Student Research Days hosted over 291 graduate and undergraduate students on April 11-12 in the Nebraska Union. These students gathered to showcase their research and creative accomplishments by displaying posters. Three undergraduate students and nine graduate students presented their research related to NCESR sponsored projects. Roman Estrada from the Nebraska Public Power District attended the poster session and discussed the student's research with them. To view the posters, click here .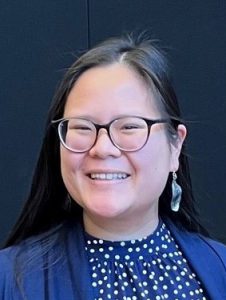 Winifred (Wini) Waters, a graduate student from the lab of Dr. Alexander Sinitskii in the Department of Chemistry and a researcher on an Energy Center project, participated in the inaugural Student Research Days Slam. This event, sponsored by the Office of Research and Economic Development in partnership with Graduate Studies, was held on April 13, 2022 in the Walter Wick Alumni Center. Five finalists were chosen to present at the Slam. Each Slam participant gave an 8-minute talk on the topic of "What skill or ability have you developed through your research experience or creative activity that you think would make the world better if everyone had it?" Congratulations to Wini for giving an excellent presentation. She received $100 for being a finalist in the competition. First place received $500.
Read more…
Anne Stratman, a graduate student working with Dr. Wei Qiao in Electrical and Computer Engineering, presented a poster entitled "Bidding Wind and Solar as Reserve Products in U.S. Electricity Markets" at the 2022 Student Research Days poster session on April 11. Anne's poster was selected as an honorable mention engineering graduate student poster by the College of Engineering poster evaluators. This award comes with a $500 prize. Anne Stratman poster
Sean Carr, a graduate student working with Nicole Buan in Biochemistry, also presented a poster at the 2022 Student Research Days. His poster "Optimizing Scale Production of Isoprene from Engineered Methanogens" was one of the winners during the Spring 2022 Student Research Days competition. Sean and Dr. Buan are working on an Energy Center project entitled "Optimization of biosoprene production from renewable and captured carbon feedstocks". To view Sean's poster, go to Sean Carr Poster Sean will receive a $400 award/travel grant to present his research at a regional or national conference or to support other research costs.
Maggie Ramsay, an undergraduate working with Dr. Alex Sinitskii in the Chemistry Department, received an Honors Program Award "Award for Most Significant Potential for Real-World Impact". Maggie's poster was entitled "Morphology Control of SnS Nanoplatelets Towards Application as a Two-Dimensional Chemoresponsive Gas Sensor" See Maggie Ramsay poster. Maggie will receive $250 award directly from her college.
Poster winners working with Dr. Xia Hong in the Physics and Astronomy Department were Qiuchen Wu (graduate student) and Alyssa Simpson (undergraduate student). The posters had the same title but different research. The title of the posters was "Ferroelectric Domain Studies of Free-Standing PbZr0.2Ti0.8O3 (PZT) Membranes".
Qiuchen Wu received a $400 travel grant for his poster. To view Qiuchen's poster, go to Qiuchen Wu poster.
Alyssa Simpson received $250 for her poster. To view Alyssa's poster, go to Alyssa Simpson poster.
The competition involved over 40 faculty and postdoc reviewers who rated student presentations on the basis of their research scholarship and presentation skills.

Eight undergraduate students were selected as recipients of the Darrell J. Nelson Summer Undergraduate Internship in Energy Sciences Research for the Summer of 2022. The eight recipients and their supervising faculty members are Matthew Dohmen (Eric Markvicka, Department of Mechanical and Materials Engineering); Bryce Herrington (Robert Streubel, Department of Physics and Astronomy); Laura Kirshenbaum (Nicole Buan, Department of Biochemistry); Aidan Larsen (Siamak Nejati, Department of Chemical and Biomolecular Engineering); Camden Olds (Xiaoshan Xu, Department of Physics and Astronomy); Jackson Taylor (George Gogos, Department of Mechanical and Materials Engineering); Samantha White (Cody Stolle, Department of Mechanical and Materials Engineering and Midwest Roadside Safety); and Ruthi Zielinski (Robert Streubel, Department of physics and Astronomy). The internship is named after Mr. Darrell J. Nelson, who served 41 years on the Custer County Public Power District and Nebraska Public Power (NPPD) Boards. In 2005, Mr. Nelson proposed a partnership between NPPD and the University of Nebraska–Lincoln for engaging in energy sciences research. The following year, the Nebraska Center for Energy Sciences Research (NCESR) was created with NPPD's support. At the end of the paid internship, each student will prepare a summary report that describes their experience and will prepare a poster to describe the accomplishments or results of their work experience in energy sciences research.
Eight new research projects were selected for funding by the Energy Center in its sixteenth annual grant competition. The faculty selected for the awards were Professors Wei Bao, Department of Electrical & Computer Engineering, Bai Cui, Department of Mechanical & Materials Engineering, Jun Wang, Department of Electrical & Computer Engineering, Xia Hong, Department of Physics & Astronomy, Yiqi Yang, Department of Textiles, Merchandising, & Fashion Design, Hamid Sharif, Department of Electrical & Computer Engineering, Wei Qiao, Department of Electrical & Computer Engineering, and Matthias Fuchs, Department of Physics & Astronomy. To learn more go to 2022/2023 Energy Research Grants (Cycle 16)
The Nebraska Public Power District recently produced a video showcasing six energy research projects funded through the Nebraska Center for Energy Sciences Research.  The University of
Nebraska-Lincoln professors leading these projects are Martha Shulski, School of Natural Resources; Chris Cornelius, Chemical and Biomolecular Engineering;  Ned Ianno, Electrical and Computer Engineering;  Karrie Weber, School of Biological Sciences; Jeff Shield, Mechanical and Materials Engineering; and Xiaoshan Xu, Physics and Astronomy.    To view the video, click on Research Videos