Competetive seed grants grow energy ideas
Competetive seed grants grow energy ideas
The Nebraska Center for Energy Sciences Research (NCESR), chartered in 2006, supports innovative research and interdisciplinary collaboration by funding competitive "seed grants" for energy sciences research. About Us describes the mission, goal, vision, center organization and administration, including the Director, Associate Director, Executive Council and the External Advisory Committee. Contact Us gives the office address plus contact information for the Center's staff. Use the Whittier Research Center Map or UNL's Campus Maps to locate the NCESR office in Suite 230 of the Whittier Research Center, 2200 Vine Street, Lincoln, Nebraska.
---
The Nebraska Center for Energy Sciences Research released its Request for Proposals (RFP) seeking innovative energy sciences research and collaboration ideas from UNL faculty.  This is the tenth annual cycle in which UNL faculty can compete in this internal competition for energy research grants.  These grants are considered seed funding to help UNL faculty develop energy-related research capacity and improve their competitiveness for external funding.  Funding for this opportunity is made possible through an investment in energy sciences research by the Nebraska Public Power District. Click here for a copy of the NCESR Cycle 10 RFP.  The deadline to submit a pre-proposal is May 22, 2015 at 5:00 p.m., CDT.   Full proposals will be by invitation only.
If you have any questions concerning this RFP, please contact Ember Welsch, interim program manager (402-472-6743 or  ewelsch2@unl.edu) or Michael Nastasi (402-472-3852 or mnastasi2@unl.edu).  You may also leave a message with Lorraine Moon, Office Associate (402-472-6082 or lmoon1@unl.edu).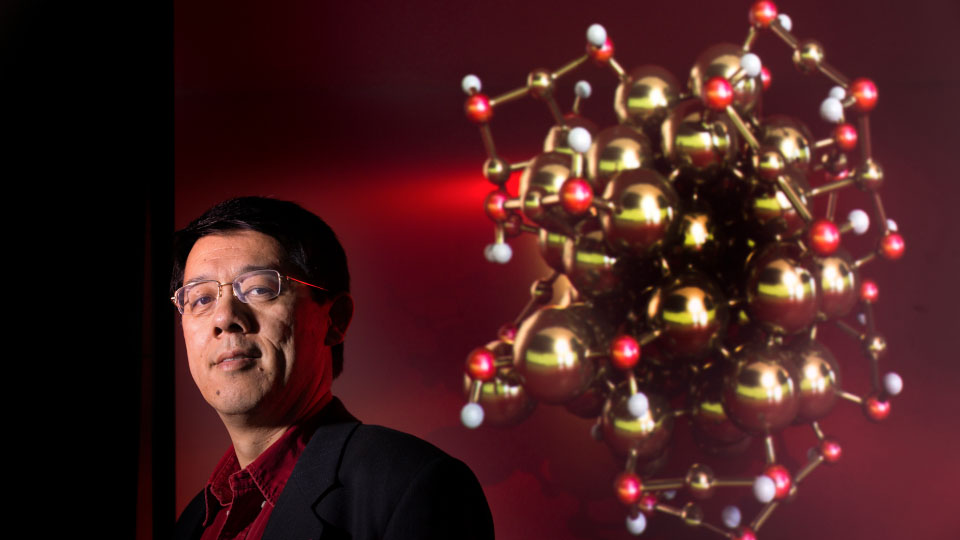 Led by UNL's Xiao Cheng Zeng and former visiting professor Yi Gao, new research has revealed four atomic arrangements of a gold nanoparticle cluster. The arrangements exhibit much lower potential energy and greater stability than a standard-setting configuration reported last year by a Nobel Prize-winning team from Stanford University.
The modeling of these arrangements could inform the cluster's use as a transporter of pharmaceutical drugs and as a catalyst for removing pollutants from vehicular emissions or other industrial byproducts, Zeng said.
http://news.unl.edu/newsrooms/unltoday/article/study-models-new-atomic-structures-of-gold-nanoparticle/
The 2015 Spring Research Fair was held April 14-15 at the University of Nebraska-Lincoln City Campus Union.  Sponsors of the event were the Office of Research and Economic Development, the Office of Graduate Studies, and NUtech Ventures.  A total of 120 posters were showcased at the Fair.  Of the 120 posters, 13 were submitted by students who worked on NCESR-funded research.
Elena Echeverria Mora was selected by the event sponsors as having one of the top ten posters overall and awarded a $400 travel grant to present her research at a regional or national conference.
To view the posters related to NCESR-funded projects, click here
Four undergraduate students were selected as recipients of the Darrell J. Nelson Summer Undergraduate Internship in Energy Sciences Research for the summer of 2015.  The four recipients and their supervising faculty members are:   Connor Dennhardt sponsored by Professor Jing Zeng, Department of Earth and Atmospheric Sciences;   Riley Giesler sponsored by Professor David Berkowitz, Department of Chemistry;   Mason Marcolina sponsored by Professor Wayne Riekhof, School of Biological Sciences; and Ethiyal Raj Wilson sponsored by Professor Peter Dowben, Department of Physics and Astronomy.    The internship is named after Mr. Darrell J. Nelson, who served 41 years on the Custer County Public Power District and Nebraska Public Power (NPPD) Boards.  In 2005, Mr. Nelson proposed a partnership between NPPD and the University of Nebraska–Lincoln for the purpose of engaging in energy sciences research.  The following year, the Nebraska Center for Energy Sciences Research (NCESR) was created with NPPD's support.  At the end of the paid internship, each student will prepare a summary report that describes their experience and prepare a poster to describe the accomplishments or results of their work experience in energy sciences research.
The Nebraska Public Power District recently produced a video showcasing five energy research projects funded through the Nebraska Center for Energy Sciences Research.  The
University of Nebraska-Lincoln  professors leading these projects are Galen Erickson, Animal Science; Concetta DiRusso, Biochemistry;  Joe Luck, Biological Systems Engineering; James Specht, Agronomy and Horticulture;  and Alexander Sinitskii, Chemistry.  To view the video, go to Video Showcases Five Energy Research Projects  Click on Research Grant Awards to see more information about all research projects.
With funding from the Energy Center, Xiao Cheng Zeng and his research team discovered a new material that could have significant implications from carbon storage to planetary science and solid lubrication.  Tom Simons, University Communications shares more about these developments in the UNL Today article, "New material could help with carbon storage". Full Story
With funding from the Energy Center, Alexander Sinitskii and his research team are developing answers to questions about harnessing the conductivity of graphene.  Tom Simons, University Communications shares more about these developments in the UNL Today article, "Team develops chemical solution for graphene challenges."  Full Story