Homepage News
NOW TAKING APPLICATIONS for the NCESR 2024 Summer Undergraduate Internships
The Nebraska Center for Energy Sciences Research (NCESR) is taking applications for the Energy Sciences Research – Summer Internships for Undergraduates. The eight internships are made possible through NCESR with support from the Nebraska Public Power District (NPPD). The Darrell J. Nelson Summer Undergraduate Internship in Energy Sciences Research is being offered for the eleventh year in the amount up to $6,000 per recipient for the summer of 2024. The application deadline is Friday, February 16, 2024 at 5:00 p.m., CT.
For additional information about the 2024 application requirements, click on the instructions link below.
2024 NCESR Summer Internship Instructions
For a copy of the application form, click on the link below. It is a DocuSign form so you will need to sign in with your UNL ID and password.
NCESR 2024 Summer Undergraduate Internship Application Form
Application Requirements:
The applicant is responsible to submit all required information in one package in the above DocuSign link. An application that does not follow the requirements will not be considered. The application requirements are as follows:
1. Application Form. Complete this form in DocuSign and attach required information, sign and date.
2. Applicant Letter. Attach a one-page letter that: (a) describes you, your major and your interest in energy issues and energy sciences research; (b) specifically identifies the start and end dates of the energy research project; and (3) describes the research project and the tasks you will complete as part of the energy sciences research summer internship.
3. Faculty Letter. Attach a one-page letter from the faculty who agreed to sponsor your application and energy sciences research summer internship, if selected.
4. Transcript. Attach an unofficial transcript.
To learn more about previous NCESR summer undergraduate internship projects, go to Undergraduate Summer Internship Posters
If you have any questions, please contact Sue Wesely at swesely4@unl.edu.
---
Workshop Expands UNL STEM Researchers' Entrepreneurship Knowledge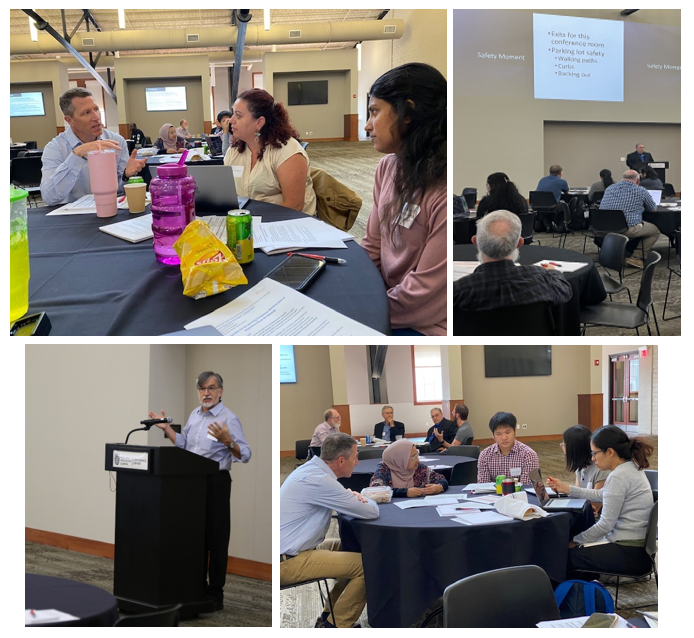 STEM researchers are experts in their respective fields of inquiry, but it's not always obvious how to transform groundbreaking research into a thriving startup. To make the process more apparent, the Nebraska Center for Energy Sciences Research (NCESR), in partnership with NUtech Ventures, Innosphere Ventures and the Nebraska Public Power District (NPPD), held a day-long workshop devoted to the subject on September 6.
Dr. George Gogos, NCESR director gave a welcome to kick off the workshop. He said, "we are all here because the leadership of NPPD and UNL came together in 2006 and established NCESR. In addition to research on renewable and other clean forms of energy, energy efficiency and carbon capture, the center supports many other activities. Today, we are here to deliver, with great help from our partners, a workshop that will expand UNL STEM researchers' entrepreneurship knowledge." Roman Estrada, NPPD generation research sr. program manager and NCESR liaison presented an overview of NPPD's role in Nebraska, collaboration with NCESR, NPPD's areas of interest for future entrepreneurship opportunities and how NPPD supports entrepreneurship development.
"An early-stage startup's customer value proposition is the most important of the four opportunity elements," said Mike Freeman, chief executive officer of Innosphere Ventures, which supports founders who are building high-growth science and technology companies. "Needs must be strong, and market differentiation is essential. To survive, a startup must be able to fulfill its value promise, which includes inventing the product, building it, physically delivering it, and servicing after it is sold. Poor execution on any of these tasks can kill a venture."
Only a small percentage of startup companies ever make it to $1M revenue, noted Tim Jones, chief operating officer of Innosphere Ventures. "The single biggest root cause is lack of product/market fit," he added. "More startups fail from a lack of customers than from a product development failure."
Prior to forming a startup or before any enabling public disclosure is made, an invention should be formally disclosed to NUtech Ventures, noted Jeewan Jyot, director of licensing for NUtech Ventures. Typically, following the evaluation of the potential invention, NUtech Ventures will file an initial patent application that subsequently may be exclusively licensed by the startup. Further, the licensee may provide input for the prosecution of the patent(s). This process results in the startup being able to pursue a path to develop the technology for commercial use.
"We're highly motivated to partner with our talented researchers move their innovations from the lab to the marketplace," said Brad Roth, executive director of NUtech Ventures. "We encourage faculty, staff and students to get in touch early with NUtech Ventures, work with us to protect intellectual property, and take advantage of entrepreneurship programs like our Nebraska I-Corps: Introduction to Customer Discovery program. If a startup company is a logical next step, NUtech will work with the researchers to facilitate the process."
The Nebraska I-Corps program teaches aspiring entrepreneurs about value propositions, stakeholder ecosystems, interviewing prospective customers, and more. Participants interview people in their fields and learn which problems are important to them — and then consider what that means for potential business ideas. The next six-week session begins Monday, September 25.
The workshop speakers also discussed different sources of business funding, including venture capital, professionally managed funds invested for a high rate of return; angel investors, who are accredited investors who invest in the early stages of the business, and family office investors, private wealth management advisory firms that serve high net worth investors.
The day was capped with a networking session including a number of organizations within the Nebraska startup community and several university founders.
---
Workshop Provides Insights into Various Facets and Applications of Biochar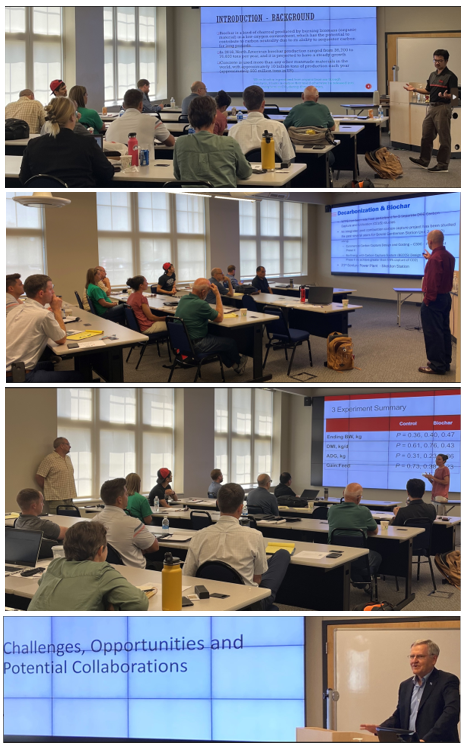 On August 17, 2023, the inaugural Biochar Workshop, sponsored by the Nebraska Center for Energy Sciences Research (NCESR), convened at the Prem S. Paul Research Center at the University of Nebraska-Lincoln (UNL).
Dr. Jerry Hudgins, Interim Director of the NCESR, commenced the event with his opening remarks, warmly welcoming all the attendees. Following Dr. Hudgins' introduction, Dr. Jiong Hu, Professor of Civil and Environmental Engineering, delivered a comprehensive overview of the workshop agenda and objectives. The workshop's objectives are to disseminate comprehensive insight into various facets of biochar, facilitate networking and collaboration among key stakeholders, and assess and address the challenges and opportunities in biochar applications.
Mr. Jedd Fischer, Senior Project Manager at Nebraska Public Power District (NPPD), provided insights to the workshop participants on the work of NPPD across Nebraska and the relevance of this biochar research for NPPD's customers.
During the workshop, five researchers from UNL delivered technical presentations based on their recent or ongoing research endeavors, with the majority of these projects receiving funding from the NCESR. In addition to Dr. Jiong Hu, the following experts shared their valuable research insights: Dr. Humberto Blanco (UNL Department of Agronomy and Horticulture), Dr. Michael Kaiser (UNL Department of Agronomy and Horticulture), Dr. Andrea Watson (UNL Department of Animal Science), and Dr. Nirupam Aich (UNL Department of Civil and Environmental Engineering). Their presentations delved into various topics, including leveraging biochar to enhance soil productivity, optimize concrete performance, manage methane emissions, refine water treatment processes, and contribute to carbon sequestration efforts.
Andrea Watson, Research Associate Professor at the Department of Animal Science of UNL, said "Improving the value of marginal or waste products can be done through incorporation of biochar in agriculture. While feeding to livestock is not currently an approved use of biochar, using biochar as a pen amendment in the livestock industry has great potential. This would capture value for the feedstock that is made into biochar, can improve nitrogen capture in livestock manure, and can benefit the soils the manure is spread on. Agriculture fits very well within a circular bioeconomy and biochar is one piece that can help keep nutrients in the cycle instead of exiting as waste."
Michael Kaiser, Assistant Professor of UNL Department of Agronomy and Horticulture, stated, "Biochar produced from organic waste is, to date, one of the most promising materials suitable to improve the functioning of agricultural and urban soils. In our research, we focus on combining biochar with other sustainable soil management practices such as cover cropping, reduced tillage, and application of biosolids to explore synergistic effects on improving agroecosystem services and increasing resource use efficiency. The first data from our field experiments in Nebraska show significant and site independent increase in soil organic carbon storage by more than 50% after biochar application and increased soil nitrate retention due to iron oxide formation on the surface of biochar. Future analyses will reveal information about effects on biomass production, nutrient availability, soil water retention, and microbial community structure."
The workshop concluded with a constructive discussion that centered on the challenges, opportunities and prospects for potential collaborations of biochar research and applications.
The workshop drew over 20 participants, spanning a diverse spectrum of stakeholders, including biochar producers, professionals from agriculture, forestry, and waste management, government officials and policymakers, environmental and conservation advocates, industry partners and associations, and esteemed researchers and academicians. Mr. Barton Barcel, Barcel Mill and Lumber Bellwood, NE said, "As a producer and supplier of biochar, one of our challenges has been to develop uses and markets for our product. Our relationship and research projects with Dr. Jiong Hu and other UNL professors have lead to some interesting outcomes and possibilities in the development of new, and improvements of existing products."
Mr. Alan Dostal, NPPD, gave the closing remarks. Mr. Dostal expressed his appreciation to Dr. Hu for coordinating the workshop and to the rest of the presenters for their research on the important topic of biochar. This research could lead to a reliable carbon sequestration process that will be very important for NPPD and its customers.
Dr. Jiong Hu shared the genesis of the biochar workshop, revealing that the idea emerged during a discussion with Mr. Adam Smith, formerly affiliated with UNL Nebraska Forest Service and now with the US Forest Service. With the recent financial backing from NCESR for numerous biochar-related research initiatives, Dr. Hu recognized the importance of providing a platform for researchers to disseminate their findings not only amongst themselves but also to the wider public and stakeholders invested in biochar production and utilization. Dr. Hu said, "I sincerely thank NCESR for their invaluable support in making this workshop possible. The enthusiastic response from our attendees is truly heartening and underscores the burgeoning interest in this dynamic field. Biochar holds immense promise in tackling environmental and economic challenges concurrently. Nevertheless, the multifaceted nature of biochar research necessitates a collaborative, interdisciplinary approach. I hope this workshop has sown the seeds for continued exploration and innovation in the field of biochar, not only within the state of Nebraska but also across the broader landscape of the United States."
---
Dr. George Gogos selected to lead the Nebraska Energy Center
Longstanding College of Engineering faculty member George Gogos, the Wilmer J. and Sally Hergenrader Chair of Mechanical Engineering, has been named director of the Nebraska Center for Energy Sciences Research, effective August 14, 2023.
Gogos, who will continue his role as professor of mechanical and materials engineering, succeeds interim director Jerry Hudgins, professor and chair of electrical and computer engineering. He also serves as co-director for the Center for Electro-Optics and Functionalized Surfaces and is co-founder of two companies: one developing equipment for certified organic weed control and one focusing on thermal management using functionalized surfaces.
Gogos' primary research areas include flow and heat transfer using surfaces functionalized with femtosecond lasers and flame weeding. This research is funded by the Office of Naval Research, Defense Advanced Research Projects Agency, National Science Foundation, National Aeronautics and Space Administration, Boeing, Honeywell, Textron Aviation and the Nebraska Department of Economic Development.
"My vision for NCESR is to grow it into a global leader in energy sciences research. In this effort, it is important to strike a balance between funding research in renewable forms of energy and research in other energy sources targeting increases in energy efficiency and carbon capture, including carbon-neutral sources such as nuclear technologies," Gogos said. "This approach is extremely important. Approximately 78 percent of our energy currently derives from fossil fuels (coal, petroleum and natural gas) and it will take a few decades and energy storage technical breakthroughs for larger transitions to renewable forms of energy.
"To achieve this vision, I plan to work closely with NPPD leadership to build a community of UNL energy researchers and increase the visibility of NCESR nationally and internationally."
The NCESR team wants to thank Dr. Hudgins for his excellent leadership, guidance and expertise to ensure the Energy Center continued to be successful during his interim. The NCESR team looks forward to working with Dr. Gogos to assist in helping achieve his vision of growing the Energy Center into a global leader in energy sciences research and increasing the visibility of NCESR.
See the full article from the College of Engineering at https://engineering.unl.edu/news/230823/gogos_ncesr_director/
---
Summer Interns Continue Learning Opportunities
Cooper Nuclear Station (CNS) Tour
On July 19, the NCESR 2023 Darrell J. Nelson Summer Undergraduate interns and sponsoring faculty visited CNS to learn more about clean, sustainable nuclear energy and how it is generated at the site.
CNS is owned and operated by Nebraska Public Power District (NPPD) and is located three miles South of Brownville, Nebraska. Built in 1974, CNS currently produces 835 megawatts of electricity from its single unit, boiling water reactor.
The site visit kicked off with a presentation led by CNS System Engineering Manager Shannon Schulz that included the history of CNS, how a boiling water reactor generates nuclear power, and the value of existing nuclear power plants in addition to the growing interest in advanced nuclear options. The NCESR team was then escorted by CNS Nuclear Independent Oversight Director Gabe Gardner, CNS Emergency Preparedness Manager Matt Nee, and Schulz to the Protected Area (PA) of the plant.
Once inside of the PA, the group received an interactive presentation in the Control Room Simulator by CNS Simulator & Training Support Superintendent Any Vaughn. Next, the group viewed the Independent Spent Fuel Storage Installation and the control rod and fuel bundle displays in the Training Building.
The group departed the Training Building for the remainder of the tour, which included stops in the Diesel Generator room, water Intake Structure, and Turbine Deck. The visit would not have been complete without seeing the Control Room, which was manned with Licensed Reactor Operators running the plant and monitoring the reactor core. The interns and faculty sponsors thoroughly enjoyed the tour. For the majority of the group, it was their first time touring a nuclear plant. They were enlightened to learn nuclear energy is the largest source of clean energy and the most reliable energy source in America. The CNS Team who organized and provided the tour was pleased with how much the students and faculty were engaged in the tour and appreciated their questions. NCESR is grateful for the collaboration with NPPD for this learning opportunity.
UNL Summer Research Symposium
All the hard work from the summer research was organized by each intern to prepare their poster to present at the UNL Summer Research Symposium on August 3. This was a new experience for some interns and they did an excellent job presenting their posters. The representatives from NCESR and NPPD were impressed with their research and presentations.
Internship Wrap Up
August 31 concluded the 2023 internships. Each student prepared a summary report describing their summer work experience in energy sciences research, their accomplishments and lessons learned. The faculty sponsors also included a summary of the internship experience from their perspective in the report.
The Energy Center is proud to be a part of these bright young individuals' learning journey and wish them well in their future endeavors.
---
20 Posters Highlight NCESR Projects at Student Research Days
The Office of Graduate Studies, Office of Undergraduate Research, and the Office of Research and Economic Development hosted the Spring 2023 Student Research Days on March 28-29 in the UNL Nebraska Union. Over 300 graduate and undergraduate students participated in the event. These students gathered to showcase their research and creative accomplishments by displaying and presenting posters. There were three undergraduate students,18 graduate students and one postdoc who presented 20 posters relating to NCESR funded projects. Roman Estrada and Alan Dostal from the Nebraska Public Power District (NPPD), and Dr. Jerry Hudgins, NCESR Interim Director attended the poster sessions to discuss the student's research with them. To view the posters, click on this link.
Congratulations to Arjun Subedi for Receiving a Graduate Student Award
Arjun Subedi, a graduate student working with Dr. Xia Hong, Dr. Takashi Komesu, Dr. Xiaoshan Xu & Dr. Peter Dowben in Physics and Astronomy, presented a poster, titled, "A model for electronic phase transition of CoFe2O4 and NiCo2O4 thin film surfaces: Temperature dependent X-ray photoemission studies of CoFe₂O₄ and NiCo₂O₄ thin films". Arjun received a $400 award/travel grant to present his research at a regional or national conference or to support other research costs.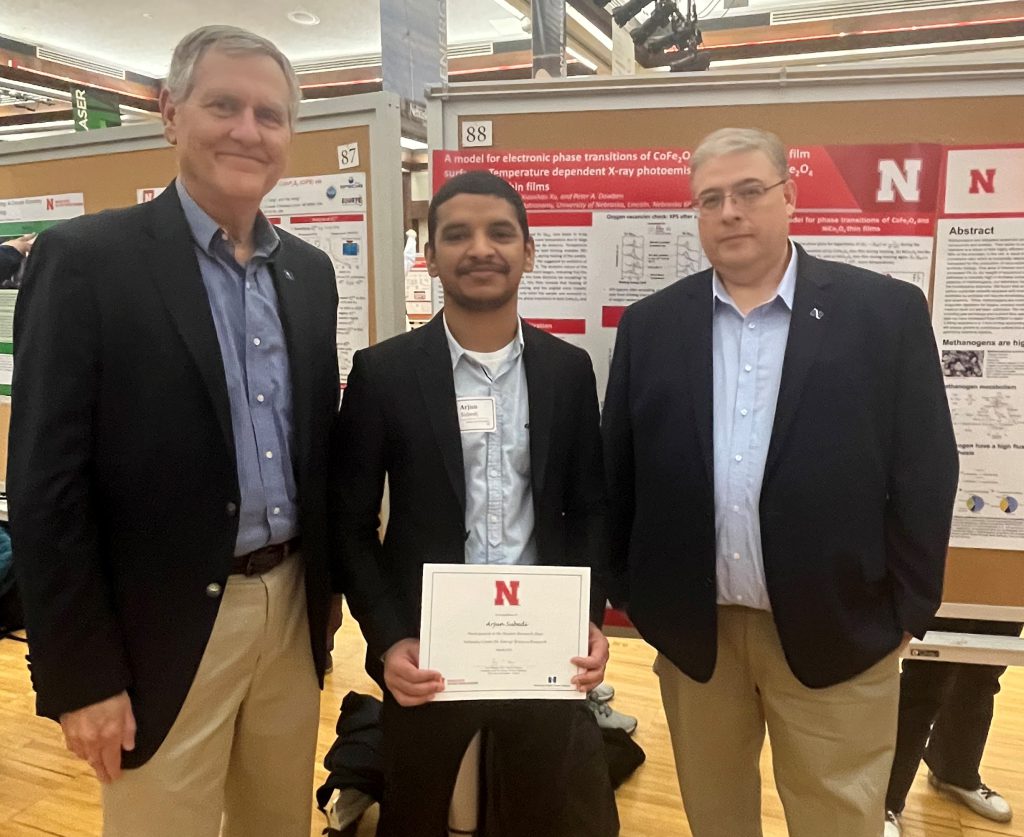 Alan Dostal – NPPD, Arjun Subedi and Roman Estrada – NPPD
Congratulations to Alyssa Simpson for Receiving an Undergraduate Student Award
Alyssa Simpson, an undergraduate student working with Dr. Xia Hong with Physics and Astronomy, who presented a poster, titled, "Free-standing PbZr0.2Ti0.8O3 top-gated two-dimensional MoS2 photovotaics." Alyssa received a $250 award from the College of Arts and Sciences.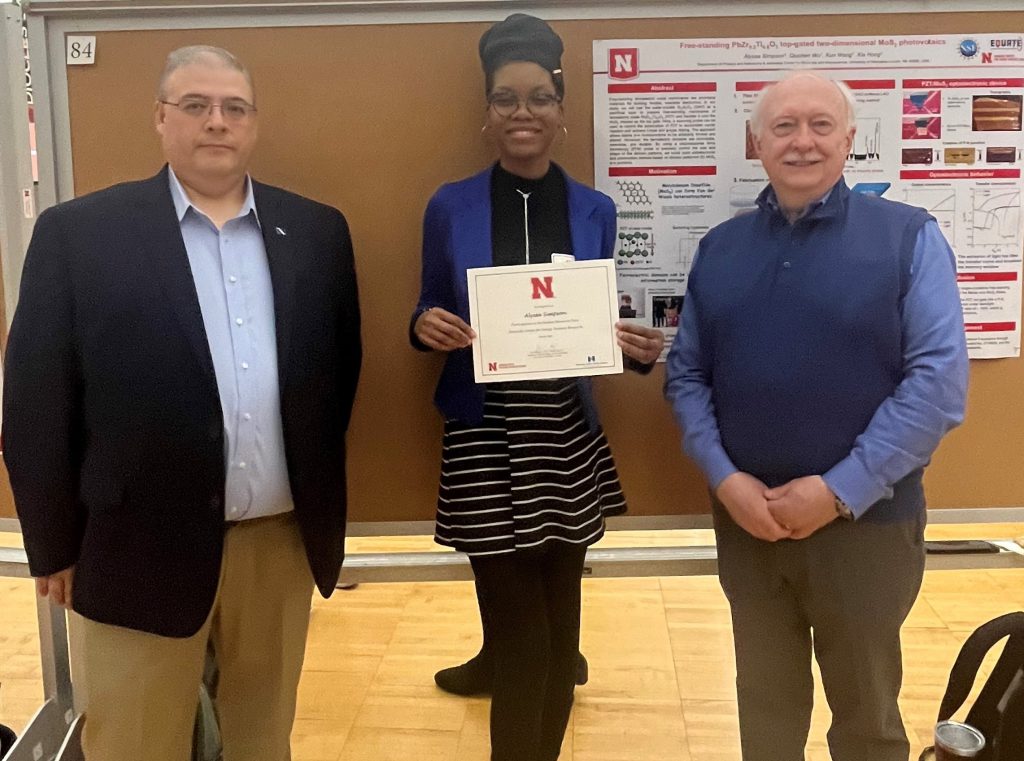 Roman Estrada – NPPD, Alyssa Simpson and Dr. Jerry Hudgins – NCESR Interim Director
---
NCESR selects new funding projects for Cycle 17
Six new research projects selected for funding by the Energy Center in its seventeenth annual grant competition started on January 1, 2023. The overall goal of NCESR is to foster research and education in energy sciences by providing funding to support innovative research and collaboration among UNL faculty and with other public- and private-sector organizations and businesses. Cycle 17 awards are listed by project title, principal investigator, and department or college:
Co-application of biochar and biosolids for carbon sequestration and sustainable soil management in urban-agricultural landscapes – Dr. Michael Kaiser, Assistant Professor for Applied Soil Chemistry, Agronomy & Horticulture.
Additive Manufacturing of Advanced Magnets for Power Systems ((AM)²PS) – Dr. Jeff Shield, Professor, Mechanical & Materials Engineering.
Photocatalytic Corrosive Nanostructured Electrode to Split Water – Dr. Ravi Saraf, Professor, Chemical and Biomolecular Engineering.
Smart Grid cybersecurity enhancement using smart authentication and intelligent threat detection – Dr. Byrav Ramamurthy, Professor, School of Computing, College of Engineering.
Biohydrogen systems for electricity and transportation – Dr. Paul Blum, Professor, School of Biological Sciences, College of Arts and Sciences.
Reducing energy to produce corn ethanol by optimizing fermenter operation and off gases treatment – Dr. Bruce Dvorak, Professor, Civil and Environmental Engineering.

To learn more go to 2023/2024 Energy Research Grants (Cycle 17)
---
Nebraska engineers, national labs partner on energy-related research
More than $1.4 million in funding from the U.S. Department of Energy will allow two University of Nebraska – Lincoln College of Engineering teams to expand innovative energy-related research in partnership with national laboratories.
Read the entire article posted in UNL's Nebraska Today at https://news.unl.edu/newsrooms/today/article/nebraska-engineers-national-labs-partner-on-energy-related-research/
---