Competetive seed grants grow energy ideas
Competetive seed grants grow energy ideas
The Nebraska Center for Energy Sciences Research (NCESR), chartered in 2006, supports innovative research and interdisciplinary collaboration by funding competitive "seed grants" for energy sciences research. About Us describes the mission, goal, vision, center organization and administration, including the Director, Associate Director, Executive Council and the External Advisory Committee. Contact Us gives the office address plus contact information for the Center's staff. Use the Whittier Research Center Map or UNL's Campus Maps to locate the NCESR office in Suite 230 of the Whittier Research Center, 2200 Vine Street, Lincoln, Nebraska.
---
Sponsor:  American Public Power Association (APPA), Demonstration of Energy & Efficiency Development projects (DEED)
Eligibility: Applicants must be full-time students attending school at an accredited college/university or vocational institution within the US and must not be graduating within 12 months of the application deadline. Official transcripts must be submitted by the application deadline. Read more…
Six new research projects were selected for funding by the Energy Center in its eleventh annual grant competition.  The faculty selected for the awards were Professors Chris Cornelius, Chemical and Biomolecular Engineering;  Wei Niu, Chemical and Biomolecular Engineering; Jeff Shield,  Mechanical and Materials Engineering; Martha Shulski, School of Natural Resources; Peter Sutter, Electrical and Computer Engineering; and Jian Wang, Mechanical and Materials Engineering.  To learn more go to Research Grant Awards – Cycle 11
Professor Edgar Cahoon from the Biochemistry Department recently informed the Energy Center that he and his co-PI, James Alfano, are recipients of a $20 million grant from the NSF EPSCoR program.  The title of the project is "RII Track-1: Center for Root and Rhizobiome Innovation (CRRI)". The project is designed to improve soil and crops in Nebraska and globally. Dr. Cahoon credits the Energy Center with laying the foundation for making this grant possible.  The Energy Center and its research projects are funded by the Nebraska Public Power District through a partnership with the University of Nebraska—Lincoln.  (Picture from UNL Today, courtesy of Gillian Klucas, Research and Development)
The Energy Center Summer Interns and the Bioenergy REU (NSF funded Research Experiences for Undergraduates) interns journeyed to the Sheldon Station on Thursday, June 23, 2016. The Sheldon Station is a coal-fired generating plant located near Hallam, Nebraska.  Once there, the interns were greeted by Lee Sauter, one of our Sheldon Plant tour guides, and Alan Dostal, Corporate Nuclear Business Manager from NPPD.  A video about the Sheldon Station gave the interns background information that was helpful to them as they toured the facility.  Throughout the tour, the students had the opportunity to ask many questions while they learned about the process of converting coal to energy. Sheldon Station Tour June 23
In the near future, the Sheldon Station will burn hydrogen instead of coal to power one of two steam boilers. To learn more about this exciting change, click Monolith Announcement.
Jerry Doyle is the new Program Manager in t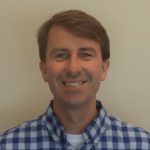 he Nebraska Center for Energy Sciences Research. In this role, he will provide business and program support, including overseeing financial management, marketing and outreach and providing support for grants development and coordination of research groups.  Jerry is a graduate of James Madison University (Virginia) with a bachelor's degree in political science and University of Minnesota with a master's degree in public policy.
The Nebraska Public Power District recently produced a video showcasing five energy research projects funded through the Nebraska Center for Energy Sciences Research.  The
University of Nebraska-Lincoln  professors leading these projects are Galen Erickson, Animal Science; Concetta DiRusso, Biochemistry;  Joe Luck, Biological Systems Engineering; James Specht, Agronomy and Horticulture;  and Alexander Sinitskii, Chemistry.  To view the video, go to Video Showcases Five Energy Research Projects  Click on Research Grant Awards to see more information about all research projects.