For the third year, the Nebraska Center for Energy Sciences Research (NCESR) offered a summer internship opportunity energy sciences research to undergraduate students in the amount of up to $5,000 for the summer of 2016.  Each recipient prepared a poster to describe their research.  The posters were presented during the Nebraska Summer Research Symposium on August 10, 2016 at the University of Nebraska City Campus Union.  A total of 195 student researchers, representing 19 research programs, participated in the event which was sponsored by the Office of Academic Affairs, Office of Graduate Studies, and Office of Undergraduate Research.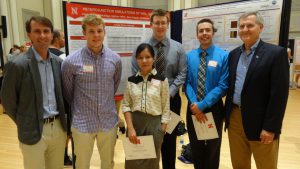 Jerry Doyle, Aaron Ediger, Rebeccia Kiat, Vojislav Medic, Spencer Prockish, and Alan Dostal
Aaron Ediger, Department of Electrical Engineering
Poster: Development of Contact Resistance Measurement Capability and Application to New Photovoltaic Materials
Rebecca Kiat, School of Biological Sciences
Poster:  Unavailable for viewing due to Patent pending.
Vojislav Medic, Department of Electrical Engineering
Poster:  Heterojunction Simulations of WSe2 Solar Cells
Spencer Prockish, Department of Physics and Astronomy
Poster:  Scanning Probe Studies of the Piezoelectric and Ferroelectric Properties
of Organic Trihalide Perovskites for Photovoltaic Applications