Home
The Nebraska Center for Energy Sciences Research (NCESR), chartered in 2006, supports innovative research and interdisciplinary collaboration by funding competitive "seed grants" for energy sciences research. About Us describes the mission, goal, vision, center organization and administration, including the Director, Associate Director, Executive Council and the External Advisory Committee. Contact Us gives the office address plus contact information for the Center's staff. Use the Whittier Research Center Map or UNL's Campus Maps to locate the NCESR office in Suite 230 of the Whittier Research Center, 2200 Vine Street, Lincoln, Nebraska.
---
The Nebraska Center for Energy Sciences Research is seeking innovative energy sciences research and collaboration ideas from University of Nebraska faculty. The Request for Proposals (RFP) was released March 20, 2023. This is the eighteenth annual cycle in which UNL faculty can compete in this internal competition for energy research grants. These grants are considered seed funding to help UNL faculty develop energy-related research capacity and improve their competitiveness for external funding.
Funding for this opportunity is made possible through an investment in energy sciences research by the Nebraska Public Power District. Preproposals are due May 15, 2023 by 1:00 p.m. Full proposals will be by invitation.
For the projects selected to be awarded, the intent is for the year one effective start date to be January 1, 2024.
For a one-year (12 month) research project, the maximum budget is $85,000.
For a two-year (24 month) research project, the maximum total budget is $170,000: $85,000 maximum for Year 1 and $85,000 maximum for Year 2. However, Year 2 funding is provisional and contingent on the PI's demonstration of adequate project and financial performance.
In addition, the RFP has a special short-term support program in hydrogen technology. This is a short cycle project lasting up to three (3) months to support university researchers collaborating to develop the best concept of university support for the Nebraska Hydrogen Hub as described in the Federal Infrastructure Bill (H.R. 3684) – Regional Clean Hydrogen Hubs (Sec. 40314). The NCESR award will be made based on the preproposal document only, on July 1, 2023, and with a limited maximum budget allowed of $30,000.
Applications for internal funding must be submitted via the Internal Competitions module in NuRamp (https://nuramp.nebraska.edu). Sign in to NuRamp using your institutional credentials. Click on IC Application. Then from the drop down, select Nebraska Center for Energy Sciences Research (NCESR) – Cycle 18 Preproposal Submission.
If you have any questions, please contact Brenda Coufal at brenda.coufal@unl.edu or Sue Wesely at swesely4@unl.edu.
Six new research projects selected for funding by the Energy Center in its seventeenth annual grant competition started on January 1, 2023. The overall goal of NCESR is to foster research and education in energy sciences by providing funding to support innovative research and collaboration among UNL faculty and with other public- and private-sector organizations and businesses. Cycle 17 awards are listed by project title, principal investigator, and department or college:
Co-application of biochar and biosolids for carbon sequestration and sustainable soil management in urban-agricultural landscapes – Dr. Michael Kaiser, Assistant Professor for Applied Soil Chemistry, Agronomy & Horticulture.
Additive Manufacturing of Advanced Magnets for Power Systems ((AM)²PS) – Dr. Jeff Shield, Professor, Mechanical & Materials Engineering.
Photocatalytic Corrosive Nanostructured Electrode to Split Water – Dr. Ravi Saraf, Professor, Chemical and Biomolecular Engineering.
Smart Grid cybersecurity enhancement using smart authentication and intelligent threat detection – Dr. Byrav Ramamurthy, Professor, School of Computing, College of Engineering.
Biohydrogen systems for electricity and transportation – Dr. Paul Blum, Professor, School of Biological Sciences, College of Arts and Sciences.
Reducing energy to produce corn ethanol by optimizing fermenter operation and off gases treatment – Dr. Bruce Dvorak, Professor, Civil and Environmental Engineering.
The Nebraska Center for Energy Sciences Research (NCESR) is taking nominations for newly recruited graduate students for the Energy Center Ph.D. Fellowship awards. We are pleased to announce we will award up to three $5,000 fellowships to exceptional graduate students for the 2023 – 2024 academic year. This fellowship is made possible through an endowment in the University of Nebraska Foundation called the Tom and Nobuko Shiokari Energy Research Fund. The nomination deadline is April 15, 2023.
The purpose of this fellowship is to support recruitment of new graduate students accepted into a Ph.D. degree program of study, and add to their teaching or research assistantship, to conduct energy science research that is aligned with the Energy Center Mission & Vision.
To download the Instructions for information about the 2023 NCESR Ph.D. Fellowship requirements, click on the link below.
Please note the instructions and form have been revised as of 12/14/2022. The student's transcript is no longer required.
For a copy of the instructions and the Fellowship nomination form, click on the link below. It is a DocuSign form, so you will need to sign in with your UNL ID and password.
DocuSign NCESR Ph.D. Fellowship Instructions and Nomination Form
If you have any questions, please contact Sue Wesely at swesely4@unl.edu or Brenda Coufal at brenda.coufal@unl.edu.
More than $1.4 million in funding from the U.S. Department of Energy will allow two University of Nebraska – Lincoln College of Engineering teams to expand innovative energy-related research in partnership with national laboratories.
Read the entire article posted in UNL's Nebraska Today at https://news.unl.edu/newsrooms/today/article/nebraska-engineers-national-labs-partner-on-energy-related-research/
NCESR awarded an instrumentation grant in 2022 in addition to the annual two-year seed grants in energy sciences research.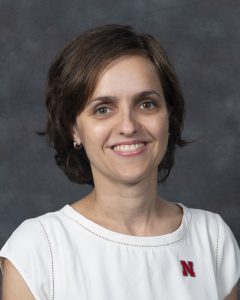 The intent of this funding is for an innovative laboratory instrument(s) that will facilitate energy science research and be accessible to all faculty, researchers, and students at UNL. Fourteen proposals competed for this funding.
Dr. Lucia Fernandez-Ballester, Assistant Professor in Mechanical and Materials Engineering was selected to receive the award. The title of her project is, Flash DSC acquisition for novel energy materials and thin films. The funding award is for 7/1/2022 – 6/30/2023.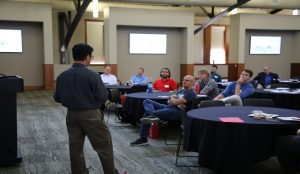 "I just wanted to thank NUtech and NCESR for hosting this Energy Center entrepreneurship Workshop," Jiong Hu said. "As a researcher, we always want our research products to be applied and used, as it will benefit not just us at UNL, but also the entire society. However, we don't always think from the entrepreneurial viewpoint, which often narrows the opportunities and limits the impact on the larger community. The workshop gave us a comprehensive view of how to better position ourselves to put our products on the market. It was also a great experience to pitch our research products in front of the guest panel with local entrepreneurs and funding organizations and receive constructive feedback from the experts. I look forward to opportunities that might present in the near future. Once again, thanks for all the efforts in organizing the workshop."
Read the entire article posted in UNL's Nebraska Today at https://news.unl.edu/newsrooms/today/article/energy-center-hosts-workshop-to-help-bring-research-to-market/