Home
The Nebraska Center for Energy Sciences Research (NCESR), chartered in 2006, supports innovative research and interdisciplinary collaboration by funding competitive "seed grants" for energy sciences research. About Us describes the mission, goal, vision, center organization and administration, including the Director, Associate Director, Executive Council and the External Advisory Committee. Contact Us gives the office address plus contact information for the Center's staff. Use the Whittier Research Center Map or UNL's Campus Maps to locate the NCESR office in Suite 230 of the Whittier Research Center, 2200 Vine Street, Lincoln, Nebraska.
---
Hosted by the Nebraska Center for Energy Sciences Research (NCESR)
Are you a STEM researcher eager to turn your groundbreaking research into a thriving startup? UNL invites you to join us for an action-packed day of interactive entrepreneurship training. Our expert speakers will provide you with the know-how and guidance you need to bring your ideas to life. Whether you're just starting to consider launching a company or have already taken the plunge, this workshop will equip you with the tools and resources you need to succeed. You'll also have the chance to network with other aspiring entrepreneurs and learn about additional opportunities for further training and development.
When: Wednesday, September 6, 2023 (9:00 am-5:00 pm) Networking Event 4:00 – 5:00 pm
A light breakfast and lunch will be provided.
Where: Nebraska Innovation Campus Conference Center, 2nd Floor, Conference Room
Don't let your research go to waste – register now for the FREE entrepreneurship workshop that could change your future!
Please register by August 25, 2023 using this link or QR code:
https://go.unl.edu/entrepreneurship_workshop_for_stem_researchers_registration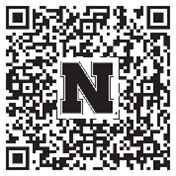 A detailed agenda is posted on the registration website.
Co-hosts and partners are Innosphere Ventures, Nebraska Public Power District and NUtech Ventures.
If you have any questions, please contact Brenda Coufal at brenda.coufal@unl.edu or Joy Eakin at jeakin@nutechventures.org
For the tenth year, the NCESR offered a summer internship opportunity in energy sciences research to undergraduate students. Eight undergraduate students were selected as recipients of the Darrell J. Nelson Summer Undergraduate Internship for the Summer of 2023. The intern recipients and their faculty sponsors are:
Bakir Al-Ameri

Sponsor: Mohammad Ghashami, Department of Mechanical and Materials Engineering
Abbegail Bowers

Sponsor: Xiaoshan Xu, Department of Physics and Astronomy
Jarod Harris

Sponsor: Mona Bavarian, Department of Chemical & Biomolecular Engineering
Bryce Herrington

Sponsor: Robert Streubel, Department of Physics and Astronomy
Emma Kurtz

Sponsor: David Gosselin, School of Natural Resources
Keegan Nitsch

Sponsor: Ravi Saraf, Department of Chemical & Biomolecular Engineering
Khaleb Pafford

Sponsor: Cody Stolle, Department of Mechanical & Materials Engineering
Truman Stoller

Sponsor: George Gogos, Department of Mechanical & Materials Engineering
The 2023 summer interns will meet with staff from NPPD and NCESR in a Meet and Greet session on May 25. Each intern will present a poster at the UNL Summer Research Symposium on August 3. At the end of the paid internship, each student will prepare a summary report that describes their accomplishments and/or results of their work experience in energy sciences research.
The internship is named after Mr. Darrell J. Nelson, who served 41 years on the Custer County Public Power District and Nebraska Public Power (NPPD) Boards. In 2005, Mr. Nelson proposed a partnership between NPPD and the University of Nebraska–Lincoln for engaging in energy sciences research. The following year, the Nebraska Center for Energy Sciences Research (NCESR) was created with NPPD's support. The Darrell J. Nelson Summer Undergraduate Internship in Energy Sciences Research program started in the summer of 2014 with four internship awards.
The Office of Graduate Studies, Office of Undergraduate Research, and the Office of Research and Economic Development hosted the Spring 2023 Student Research Days on March 28-29 in the UNL Nebraska Union. Over 300 graduate and undergraduate students participated in the event. These students gathered to showcase their research and creative accomplishments by displaying and presenting posters. There were three undergraduate students,18 graduate students and one postdoc who presented 20 posters relating to NCESR funded projects. Roman Estrada and Alan Dostal from the Nebraska Public Power District (NPPD), and Dr. Jerry Hudgins, NCESR Interim Director attended the poster sessions to discuss the student's research with them. To view the posters, click on this link.
Congratulations to Arjun Subedi for Receiving a Graduate Student Award
Arjun Subedi, a graduate student working with Dr. Xia Hong, Dr. Takashi Komesu, Dr. Xiaoshan Xu & Dr. Peter Dowben in Physics and Astronomy, presented a poster, titled, "A model for electronic phase transition of CoFe2O4 and NiCo2O4 thin film surfaces: Temperature dependent X-ray photoemission studies of CoFe₂O₄ and NiCo₂O₄ thin films". Arjun received a $400 award/travel grant to present his research at a regional or national conference or to support other research costs.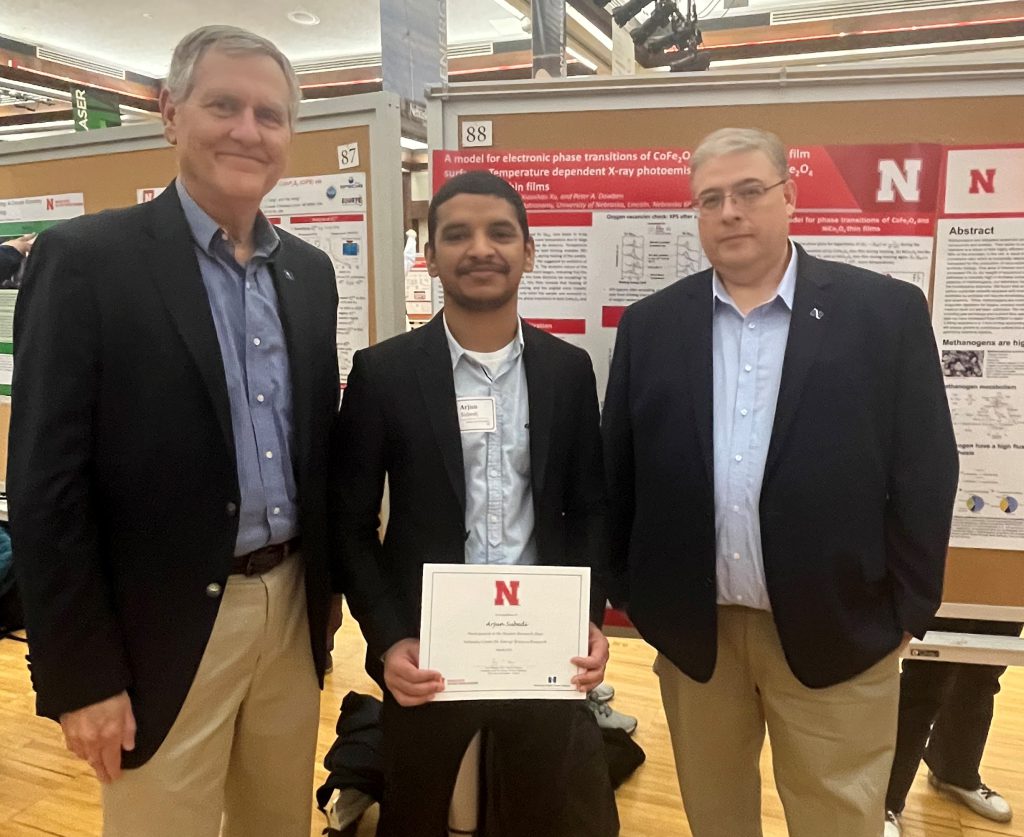 Alan Dostal – NPPD, Arjun Subedi and Roman Estrada – NPPD
Congratulations to Alyssa Simpson for Receiving an Undergraduate Student Award
Alyssa Simpson, an undergraduate student working with Dr. Xia Hong with Physics and Astronomy, who presented a poster, titled, "Free-standing PbZr0.2Ti0.8O3 top-gated two-dimensional MoS2 photovotaics." Alyssa received a $250 award from the College of Arts and Sciences.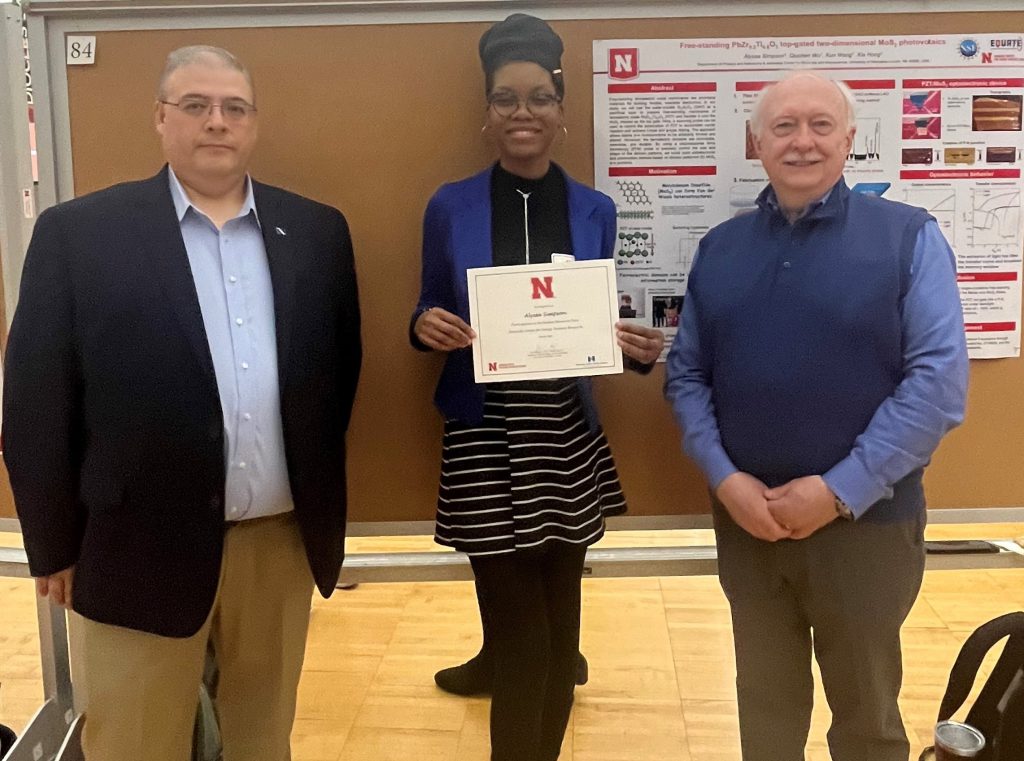 Roman Estrada – NPPD, Alyssa Simpson and Dr. Jerry Hudgins – NCESR Interim Director
Six new research projects selected for funding by the Energy Center in its seventeenth annual grant competition started on January 1, 2023. The overall goal of NCESR is to foster research and education in energy sciences by providing funding to support innovative research and collaboration among UNL faculty and with other public- and private-sector organizations and businesses. Cycle 17 awards are listed by project title, principal investigator, and department or college:
Co-application of biochar and biosolids for carbon sequestration and sustainable soil management in urban-agricultural landscapes – Dr. Michael Kaiser, Assistant Professor for Applied Soil Chemistry, Agronomy & Horticulture.
Additive Manufacturing of Advanced Magnets for Power Systems ((AM)²PS) – Dr. Jeff Shield, Professor, Mechanical & Materials Engineering.
Photocatalytic Corrosive Nanostructured Electrode to Split Water – Dr. Ravi Saraf, Professor, Chemical and Biomolecular Engineering.
Smart Grid cybersecurity enhancement using smart authentication and intelligent threat detection – Dr. Byrav Ramamurthy, Professor, School of Computing, College of Engineering.
Biohydrogen systems for electricity and transportation – Dr. Paul Blum, Professor, School of Biological Sciences, College of Arts and Sciences.
Reducing energy to produce corn ethanol by optimizing fermenter operation and off gases treatment – Dr. Bruce Dvorak, Professor, Civil and Environmental Engineering.

To learn more go to 2023/2024 Energy Research Grants (Cycle 17)
More than $1.4 million in funding from the U.S. Department of Energy will allow two University of Nebraska – Lincoln College of Engineering teams to expand innovative energy-related research in partnership with national laboratories.
Read the entire article posted in UNL's Nebraska Today at https://news.unl.edu/newsrooms/today/article/nebraska-engineers-national-labs-partner-on-energy-related-research/
NCESR awarded an instrumentation grant in 2022 in addition to the annual two-year seed grants in energy sciences research.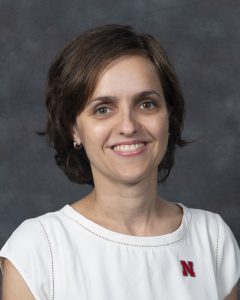 The intent of this funding is for an innovative laboratory instrument(s) that will facilitate energy science research and be accessible to all faculty, researchers, and students at UNL. Fourteen proposals competed for this funding.
Dr. Lucia Fernandez-Ballester, Assistant Professor in Mechanical and Materials Engineering was selected to receive the award. The title of her project is, Flash DSC acquisition for novel energy materials and thin films. The funding award is for 7/1/2022 – 6/30/2023.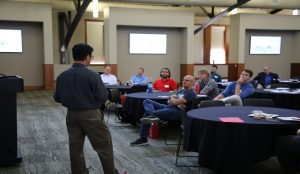 "I just wanted to thank NUtech and NCESR for hosting this Energy Center entrepreneurship Workshop," Jiong Hu said. "As a researcher, we always want our research products to be applied and used, as it will benefit not just us at UNL, but also the entire society. However, we don't always think from the entrepreneurial viewpoint, which often narrows the opportunities and limits the impact on the larger community. The workshop gave us a comprehensive view of how to better position ourselves to put our products on the market. It was also a great experience to pitch our research products in front of the guest panel with local entrepreneurs and funding organizations and receive constructive feedback from the experts. I look forward to opportunities that might present in the near future. Once again, thanks for all the efforts in organizing the workshop."
Read the entire article posted in UNL's Nebraska Today at https://news.unl.edu/newsrooms/today/article/energy-center-hosts-workshop-to-help-bring-research-to-market/