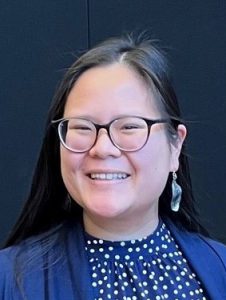 Winifred (Wini) Waters, a graduate student from the lab of Dr. Alexander Sinitskii in the Department of Chemistry and a researcher on an Energy Center project, participated in the inaugural Student Research Days Slam. This event, sponsored by the Office of Research and Economic Development in partnership with Graduate Studies, was held on April 13, 2022 in the Walter Wick Alumni Center. Five finalists were chosen to present at the Slam. Each Slam participant gave an 8-minute talk on the topic of "What skill or ability have you developed through your research experience or creative activity that you think would make the world better if everyone had it?" Congratulations to Wini for giving an excellent presentation. She received $100 for being a finalist in the competition. First place received $500.
Wini's research focuses on assembling nanostructures from two-dimensional materials, such as graphene. In her Slam talk, titled "Fragile Flakes and Frustration Tolerance" Wini discussed how the research she has done under the supervision of Dr. Sinitskii has allowed her to increase her frustration tolerance and resiliency. Two-dimensional materials are extremely fragile, and when working on her research project, Wini mentioned that even a speck of dust could break or contaminate her two-dimensional materials and be a setback towards research progress. Wini explains how this increased frustration tolerance also makes her a better Teaching Assistant (TA) by allowing her students to become comfortable with their experiments not initially working and pushing past the initial frustration they may experience in the lab.
The Energy Center project "Strain-engineering enhancement of energy efficiency of solar cells based on organic halide perovskites" was awarded to Dr. Alexei Gruverman as the principal investigator and Dr. Sinitskii as the co-principal investigator. Dr. Sinitskii serves on the NCESR Executive Council and has led several research projects with the Energy Center.